News > Students, Faculty + Alumni
Back to News Browse
Students, Faculty + Alumni
Northern Colorado professor inducted in hall of fame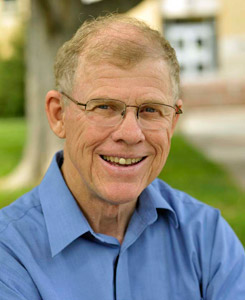 The Colorado Music Educators Association added five inductees into its Hall of Fame on Jan. 24, including University of Northern Colorado Director of Bands, Ken Singleton '74 MM, '75 MMA, '81 DMA.
The CMEA is a state organization for music teachers in primary, secondary and college levels. All teachers of music are eligible for an induction into the Hall of Fame.
Typically this award is given to teachers and professors after they retire. It is like a lifetime achievement award, based on how a teacher has served music education in the state. 
"This is what's weird about getting this award: I don't have an education degree," Singleton said. "I feel the reason I got the award was from working with band directors around the state."
He represents UNC by attending weekly workshops and clinics with secondary school bands to help them improve their performance. "I can think of no person more deserving to be named to the CMEA Hall of Fame than Ken Singleton," said Butch Eversole, the director of bands and academic chair of arts and electives at Palmer Ridge High School in Monument. Singleton has known Eversole since before he worked at UNC and works with his band students at Palmer Ridge on a regular basis.
Singleton said he thought it was a great honor to receive this induction, but the honor is secondary to what he does.
"I'd rather do the work than get the recognition," he said. "What really is important is doing the work."
Eversole says that Singleton is an inspiration both personally and artistically to Eversole.
"Since my days as a UNC graduate student, through my twenty years as a public school teacher in Colorado, I have admired (Singleton's) dedication to music, to students and to music educators," Eversole said.
Singleton has worked for UNC for more than 29 years. He received a bachelor of arts from the University of South Florida, two masters degrees in music and musical arts and a doctorate of musical arts in tuba performance from Yale University School of Music.
He started playing the trumpet in fourth grade but could not reach the high notes as well as other trumpet players, so he switched to tuba in high school. He played through college and received the first doctorate in tuba performance from Yale.