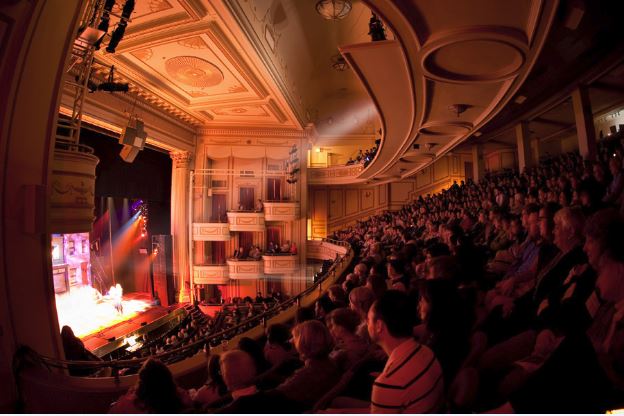 Huffington Post
By Jeryl Brunner
…Project Storefronts is just one really cool element of New Haven. The city is filled with them. Check out these gems.
Shop at a custom-made-clothing boutique and design house: Located in New Haven's historic Ninth Square District is Neville Wisdom's boutique, filled with his custom designs for women that have a classic, vintage feel with a modern twist. (He's also working on a men's line.) Wisdom designs dresses and clothing from silk, linens and wool that are made to flatter. Each item is custom-altered to fit (at no additional charge), or Wisdom can create pieces from scratch.
See a show at a historic theater: The famed Shubert Theater opened its doors on Dec. 11, 1914, and over the years it has been a incubator of great productions. Six hundred shows have played at the Shubert before heading to Broadway. A Streetcar Named Desire premiered there in 1947 with a new actor named Marlon Brando. In fact, legends including Al Jolson; Ethel, John and Lionel Barrymore; and W.C. Fields have performed on its stage. Opera, dance and all varieties of concerts are presented with tickets prices that can go as low as $15. Watch the 1950 classic film All About Eve and see the theater immortalized on screen.
Stay in the center of the action: Set smack in the midst of Yale's art, architecture and drama schools on fetching Chapel Street (one of New Haven's main shopping hubs),The Study at Yale is an easy walk to Yale's galleries and museums. Spacious rooms with feather-topped beds and leather chairs are for lingering. And the lobby (which feels more like a cozy living room), with its floor-to-ceiling bookcase, is filled with works from visiting authors and cool coffee-table books. Plus, their farm-to-table Heirloom restaurant, with dishes like sea scallops with caramelized spaghetti squash, sage and capers, is off the charts.
Take a Yalie-guided walking tour of campus: An excellent way to get a sense of the Yale campus and student life is with a complimentary walking tour given by Yale College students. Learn about the school's rich 300-year history, residential colleges, architecture and where students go to rub the good-luck foot. Tours begin at the Yale Visitor Center.
Stop by the farmers' market: At the CitySeed Wooster Square Farmers' Market, a variety of local purveyors sell fruits, vegetables and soaps. Not to be missed is grilled cheese and tomato soup from the Caseus Cheese Truck, which also parks all over New Haven. The farmers' market is open Saturday mornings from May to December. But even off season, this neighborhood, New Haven's Little Italy, is worth a stroll. Look for the 19th-century mansions and examples of federal, Greek revival, and Italian-villa-style homes. And with all the pizza and Italian pastry shops (including the famous Frank Pepe Pizzeria Napoletana), come hungry. For a listing of farmers' markets in New Haven, visit cityseed.org.
Eat your way through the city on a foodie walking tour: New Haven isn't just a pizza mecca. The city is filled with seafood restaurants, burger joints, bakeries and food tucks. Taste of New Haven helps people navigate the mouthwatering options by offering culinary walking city tours. Start off with a wine tasting at The Wine Thief, then head to BAR for pizza. Go to Temple Grill for their signature grilled ahi tuna sandwich and hand-cut French fries. Make a stop at Kudeta for sushi and other Asian fusion dishes. End at Wave Gallery, which has been open for more than 25 years, for chocolate and unique gifts.
Have a healthy but decadent breakfast: Since 1975 Claire's Corner Copia has been a beloved New Haven spot for vegetarian and organic food. Don't let the healthy label fool you. The custard-filled vegetable and cheese quiche is scrumptious. Buttercream-frosted cakes can be custom-made (with diary and gluten-free and vegan options too). Their Lithuanian coffee cake is also a mainstay. The French toast loaded with sauteed bananas and pure maple syrup is worth the splurge.