News > Students, Faculty + Alumni
Back to News Browse
Students, Faculty + Alumni
One with his violin: Geoffrey Herd '12 AD to play at Carnegie Hall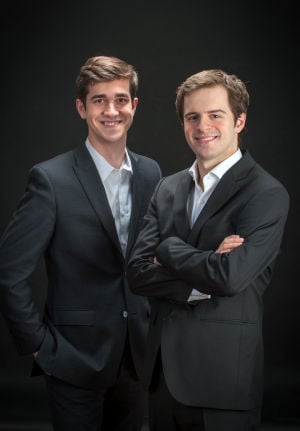 GENEVA — When Geoffrey Herd picks up his violin to practice, he focuses on the technical — on finger placement, on how he moves the bow, on where it hits the string.
When he performs, as he will later this month at Carnegie Hall, a different motivation takes over. "You just go after what lies behind the music," he said.
Classical music moves Herd ... has moved him his entire life, actually, since he hummed along to his siblings' piano and violin practices as he lay in his crib.
It moves him when he directs the Geneva Music Festival, moves him as he performs, moves him as he makes plans to visit remote areas of Thailand this summer to bring classical music to people who have little access to it.
Sometimes, Herd jokes, he wonders if he should get more interested in pop culture, but that's really not his thing. He'd rather work to make classical music more accessible to wider audiences, so it can evoke the same emotions in them that it does in him.
"It's had a consoling power for me," Herd said. "It's given me a way to connect with people. Sometimes, I'm not as good with words as I am with music."
Jan Regan of Geneva has known Herd all his life and feels that connection firsthand. "Being present when that kind of music is being made, it's a wonderful experience," she said. "Even if you don't know classical music that well ... it just kind of takes you away."
Herd, 27, grew up on North Main Street, where his parents still live, and is currently a doctoral student at Rice University in Houston.
Despite the distance, he returns home often. Last week, he was here to prepare for the March 22 show at Carnegie Hall, practicing in the same living room where he played as a child, his violin tuned for New York's bitter, dry winter instead of Houston's warmth and humidity.
Honored to play
Carnegie Hall may be the nation's most prestigious music hall — certainly, it's New York City's. Its name and 120-year history carry a certain cachet that can both intimidate and inspire a performer.
Even though he has only performed there before with larger groups, Herd insists he's "mostly excited" about the big day.
"You go more for excitement," he said. "Nobody wants to hear you be nervous. You go to share this music with the audience, not to be nervous."
Herd will perform with Cahill Smith, a pianist at Rochester's Eastman School of Music. The duo will play at the Eastman Monday as a way of field testing their Carnegie Hall show.
"I think we have a really interesting program, and we're really well prepared," Herd said. "When we get to Carnegie, we're going to have played this recital three or four times already."
The show includes pieces by Schubert, Medtner, Jalbert and Stravinsky. Herd said he and Smith tried to pick music that's a little outside the mainstream — pieces that next week's performers won't repeat.
George Abraham, a board member at the Eastman School, is bringing Herd and Smith to Carnegie through his foundation. "We've known him for a long time," Herd said. "He actually had us over to sight read some pieces, and he really liked what he heard, and he decided to sponsor us."
Geneva roots
Herd cannot remember the first time he picked up a violin. He started playing at age 4. Like the need to sleep or eat, or the rhythm of the seasons, his instrument has always been there.
…Herd said he's always been buoyed by the community's support. Although he left Geneva after his sophomore year in high school to study music in Ohio, his connection to his hometown never wavered.
"Ever since I was a little kid, there's been people in this community who really wanted arts, who really loved the arts," he said. "Because of that, I was able to start doing this."
In 2011, Herd returned the favor, founding the Geneva Music Festival. Each summer, it brings well-known musicians — like violinist Ani Kavafian, who taught Herd at Yale — to Geneva. The festival now includes seven concerts over two weeks…
Hope resonates
Back in Houston, Herd spends 12-13 hours a day teaching classes and practicing. He also performs with a group called Vicennium Void. The name — it's Latin — refers to a 20-year period, and the group emphasizes classical music composed over the past 20 years.
Herd said they want to show audiences that the genre is still flourishing and not the sole province of long-dead European composers.
The group's schedule includes concerts for and at Covenant House, a Houston homeless shelter. Soon it will take its music much farther afield.
Herd said another member of the group started a program called Resonances of Hope to carry classical music to the world's remotest places. In June, Vicennium Void will travel to northern Thailand's tribal areas.
"All these cultures are fading, through the world, so it's really an honor to be able to get there," he said.