Washington Blade
By Joey DiGuglielmo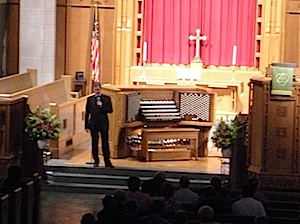 Pipe organ aficionados in Washington had the opportunity to gorge on an embarrassment of riches over the past few days. On Wednesday, iconoclast Cameron Carpenter played the Kennedy Center. Just four days later, traditionalist Ken Cowan performed at D.C.'s First Baptist Church.
The rare experience of having these two brilliant young organists here so close together was doubled by the fact that both venues in which they played just unveiled massive new organs.
The two concerts — equally dazzling — were a study in contrasts, chiefly because of the vast difference of artistic and aesthetic choices from Carpenter, 32, and Cowan, 38. Both played fully from memory save for one short self-composed piece for which Carpenter used a score. Possessed, it appears, of equal talent, Carpenter is a colorful rabble rouser who clearly delights in shaking up the often staid world of organ music. One could never call Cowan staid — he simply lights his musical fires with a different brand of kerosene. His playing is every bit as technically impressive and boundary-pushing as Carpenter's; he just does it while wearing a tux and in a setting — First Baptist — as traditional (albeit breathtaking) as it gets.
[…]
Cowan quickly got things bubbling with an utterly transfixing performance of Jean Roger-Ducasse's "Pastorale," which he played exquisitely and registered imaginatively and seamlessly.
Ironically considering the sacred setting, the devil was summoned twice — in Rachel Laurin's playful "Beelzebub's Laugh," an etude that Cowan masterfully registered so that a three-note descending melodic line that was repeated many times darted around from the Chancel to the Gallery organs so quickly it was nearly dizzying. Satan was further evoked in an arrangement of Liszt's famous "Mephisto Waltz No. 1," a staggerlingly virtuosic piece with which Cowan clearly had fun.
Leo Sowerby's maddeningly difficult "Pageant," which opens with a lengthy pedal solo that descends in rapid chromatic lines, found Cowan exhibiting every bit as much elaborate foot work as Carpenter famously exhibits in his transcription of Chopin's "Revolutionary Etude," a massive YouTube hit he curiously no longer plays live. While nobody's calling it a talent competition, the two are clearly equals in technical ability and overall musicianship.
Cowan's recital came to a glorious and stately climax with Max Reger's monumental Fantasy on the Chorale "Wachet auf, ruft uns die stimme," (Op. 52, No. 2), a dramatic interpretation of the famous Advent hymn ("Sleepers Awake") that breaks into a daring four-part fugue and ends with a towering procession on which Cowan brought the magnificent new organ to full flower. This is another spot that separates the men (state-of-the-art pipe organs) from the boys (the best electronics available): the triple-forte passages on a great organ like the Austin are unquestionably loud but not in an ear-splitting, siren kind-of way. It's loud in a lush way that still manages to be easy on the ear and with a depth of quality and detail no speaker can summon — nearly the same difference as one perceives optically between a sunset in nature versus one seen on a high definition TV screen. Only having experienced it in nature, can one fully appreciate the difference.
Cowan's well-deserved encore was another pedal workout — George Thalben-Ball's "Variations on a Theme by Paganini," which found him achieving almost unfathomable legato-yet-uber-fast melodic passages on the pedalboard alone.